Back to Blogs
11/11/2021
Have you ever been driving down the road and observed a billboard with the message, "You just drove past….!" trying to get you to be sure to stop by next time you are in the area? If you couldn't make it to the ASAC Conference in Nashville, TN this week, here's what you missed:

•
An update on Agricultural Trade from Dr. Andrew Muhammad of the University of Tennessee who provided key updates on the status of trade with China and other countries, how consolidation in international shipping companies has contributed to supply chain challenges, and the number one ag commodity that is exported (Hint: It's not corn, soybeans or wheat…)
10/28/2021

What is the value of certification/accreditation for Agricultural Consultants?

I have been asked by consulting clients what the "CAC" tagged with my name on correspondence and other business documents stands for / means. I explain that it is an acronym for Certified Agricultural Consultant. Follow-up questions normally ensue – "What did it take to earn it", "What organization is the certifier", and similar inquires. A complete account of the CAC and the American Society of Agricultural Consultants (ASAC) typically leaves a positive impression of the efforts required to obtain the CAC. But on occasion, clients have pointedly asked, "Why should I care. . . .what does it mean to me as your client?"
10/19/2021

I find that being a Certified Agricultural Consultant is most valuable in the connections I have made over the years by being a member of the American Society of Agricultural Consultants (ASAC). There was a time when the international connections of several members generated teams on projects but unfortunately, funding in that area has decreased significantly. The diversity of areas of specialization and geographical distribution is particularly useful to me because all of my work colleagues have similar backgrounds and do not cover the many disciplines involved in crop and livestock specialties provided within the Society.
10/14/2021

I became a member of the ASAC about 6 years ago and I don't regret it. I had been in the insurance industry for about 10 years when I made a career change and became a business consultant with Farm Credit East in Maine.

A business consultant at Farm Credit East (FCE) can be a jack of all trades or have a specific niche. We can focus on taxes, tax planning or estate planning. We might work more with dairy producers through a benchmarking program or other profit analyzer program. Some write grants or focus on producers in the green industry, while others choose a specialty in orchards, fruit and farm stands. We are in the Northeast, and ag can be pretty diverse here!

10/01/2021

The 2021 ASAC Annual Conference is less than fifty days away, and we are excited to be holding an "in-person" event in Music City (Nashville, TN). As Chairman of the Meeting Planning Committee, I wanted to thank the following committee members for their hard work in planning the annual conference: Pete Weisenberger; Bill Zweigbaum, CAC; Ethan Robertson; Russell Morgan, CAC; Joanna Lidback, CAC; Keith Dickinson, Gregg McConnell, John Jackson, and Ron Rabou. It has been my honor to work with these individuals and the conference schedule is second to none this year.
09/23/2021

This blog is a commentary from Pete Weisenberger on wealth management, with an encouraging message for us to attend the ASAC Annual Conference to hear Ron Rabou's personal story of persistence to succeed.
= = = = =
Whence It Came
Much ink has been expended over centuries writing about and detailing thoughts about wealth, its origins and its dispositions. Many fortunes, dynasties and empires have come and gone over the issues of wealth. Management, and more often than not, mismanagement, of wealth accumulation has driven the economies of the world since the beginning of time. Indeed, biblical writings tell of the rise and fall of empires, not always recorded in just financial terms, though. Examples abound of the chaos, confusion, deceit and outright theft that has torn families apart and dissipated wealth that, properly channeled and managed, would have provided for multiple family generations, but also would have been directed to humanitarian and philanthropic goals and objectives.
10/09/2020
Several years ago my good friend Norm Brown suggested that I join the American Society of Agricultural Consultants (ASAC) and attend their annual conference. I always admired Norm's professionalism and appreciated the success and impact of his business. Because I am a sole-proprietor, one-person Management and Executive Coaching practice it was difficult for me to justify setting aside 3 or 4 days during a busy time of the year that would take me away from my clients. As a matter of ethics, character and core values, those clients always come first in my business.
10/05/2020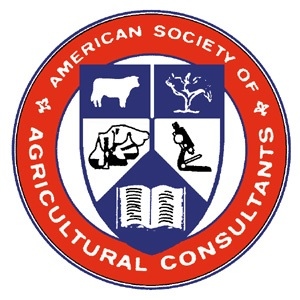 2020 ASAC Annual Conference
"Becoming a Better Consultant"
November 1-5 At the Computer / Tablet / Smart Phone of your Choice
ASAC IS GOING VIRTUAL!! Mark your calendar NOW to join your Ag Consulting Peers as ASAC launches its first ever Virtual Annual Conference.
ASAC has assembled a premier lineup of speakers to enhance your consulting professional development.